Car frames are not only a way of attaching a license plate, but also an excellent advertising medium.
Frames for numbers can be perfectly used as an advertising medium for car dealerships, auto clubs, transport companies. It is inexpensive, durable and will surely catch the target audience. Do not forget that a spectacular "corporate" car frame can become part of corporate identity of the company.
PRINTING ON NUMBERED FRAMES
Think for yourself! There are more and more cars in cities. Unfortunately, traffic jams are formed! What to do in a traffic jam? And if the car in front has a bright frame of the license plate with the advertisement of your company, then it will definitely be remembered. And not only in a traffic jam will the gaze linger. But the car drives and your advertisement will be seen by a huge number of people.
Numbered frames are printed using silk-screen printing. This is the cheapest way to advertise on autos. It is carried out with special paints with a penetrating effect, this ensures that the inscriptions are resistant to the effects of chemicals, temperature changes, atmospheric precipitation, and active solar radiation.
Cost of frames with ads
от 50 до 100 шт - 47 грн
от 101 шт - 45 грн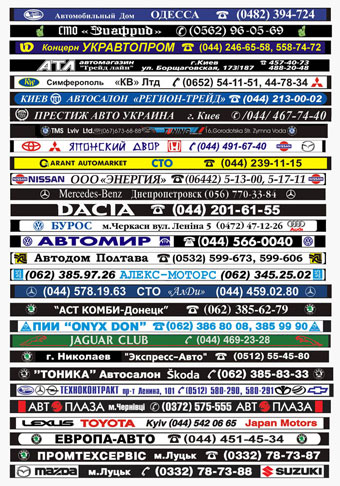 Элементы фиксации, расположенные по периметру авторамки, дают возможность без каких-либо усилий крепить к рамке номерной знак; при установке на иномарки с тыльной стороны рамки имеются гнезда для гаек; в нижней части рамки предусмотрено место для размещения рекламы фирмы-заказчика. Мы используем максимально возможный размер рекламного поля- 515x23 мм.